Joseph A. Blum - Biography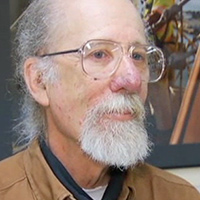 Born in New York City (1941), Joseph Blum has lived in California since 1961 and is a graduate of the University of California (1965). He worked as a boilermaker, shipfitter, and welder for twenty-five years and was the Recording Secretary of the International Brotherhood of Boilermakers, Iron Ship Builders, Blacksmiths, Forgers and Helpers, AFL-CIO, Local #6, for five years.

Since retiring from the trades, Blum has dedicated himself to documenting the labor process in words and photographs. His writings and publications include his Masters thesis, "San Francisco Iron: The Industry and Its Workers From the Gold Rush to the Turn of the Century," and a chapter, entitled, "Degradation Without Deskilling: TwentyFive Years in the San Francisco Shipyards," which appears in the book, GLOBAL ETHNOGRAPHY, published by UC Press. His photographs have been exhibited at the Berkeley Art Museum, the gallery at San Francisco City Hall, the J. Paul Leonard Library and the Gallery at San Francisco State University, the Metropolitan Transportation Commission, the Labor Archives of San Francisco State University, the SomArts Cultural Center and at the Photo Center, San Francisco.

Blum's black and white photographs, many of which are in the Pictorial Collection of the Bancroft Library, document the shipyards and the metal trades workshops of what was once a flourishing blue collar industry in the Bay Area. Recently he has photographed ironworkers and other crafts constructing significant high rise buildings in downtown San Francisco, carpenters, glaziers and other crafts rebuilding the Conservatory of Flowers in Golden Gate Park, pear pickers in the California Delta, the construction of the Al Zampa Memorial Bridge across the Carquinez Strait, and the construction of huge maritime cranes in Shanghai, China and their delivery to the Port of Oakland. His current project, now in its fifteenth year, is documenting the construction of the new east span of the San Francisco-Oakland Bay Bridge, a project he has followed from its inception to the present day.

Although Blum continues to shoot film, he also shoots digitally, continuing to concentrate on the labor processes and the work of the people who build these projects.